Want to get the full good morning bitches experience? Click this beautiful button:
Is it morning? No! But if you don't check your email after you leave work then it might be!!
***BREAKING INTERNET DRAMA***
If you've been on Twitter today you may have seen jokes about this already-iconic line: "It's..........Rebekah Vardy's account."
There is some high quality BEEF between two UK soccer WAGs (wives and girlfriends) Coleen Rooney & Rebekah Vardy. Long story short: The Sun has been publishing stories about Coleen and her family for months, using only information that she posts on her private Finsta. So Coleen brilliant narrowed down her privacy settings for who could view her Instagram stories, until she was only showing them to one person: Rebekah Vardy. Rebekah did not know that she was the only person viewing them, nor did she know that everything Coleen was posting was completely fake. So when the fake stories leaked to The Sun, Coleen posted this on Twitter:
She is WAGatha Christie up in here and I RESPECT it!!!
Here is the Guardian's deep dive into it:
---
Now onto our regular content…
Well well well, I have great news for new subscribers: you have already experienced a quintessential good morning bitches moment, in that this edition is arriving ~20 days late. Now that we've gotten my ineptitude for timely content out of the way, let's move on to something that has been weighing on me every day since I last hit "send".
I forgot to include a NECESSARY section in the last edition—one that has been in every single good morning bitches since its inception:
Update on that SOB walmart yodel kid
For those of you who are new here, all you need to know about this segment is that I have an extreme love-hate relationship with an 11-year-old singer who went viral for singing in Walmart. You know the one:
(Side note: HOW am I just now seeing THIS)
Anyway, the most tragic part of me forgetting to write about him last edition is that he is actually involved with my Facebook Dating woes (bear with me). FB Dating has an Events feature, where you can search for matches within Facebook events that you are interested in attending.
Well, you know what events I'm interested in attending?
That's right bitches, I'm tryna find love at a child country star concert!!!!
Shockingly, no eligible men between the ages of 23 and 32 have expressed interest in either of these events. Not worth my time anyway!!
Mason fatefully posted this on Instagram recently: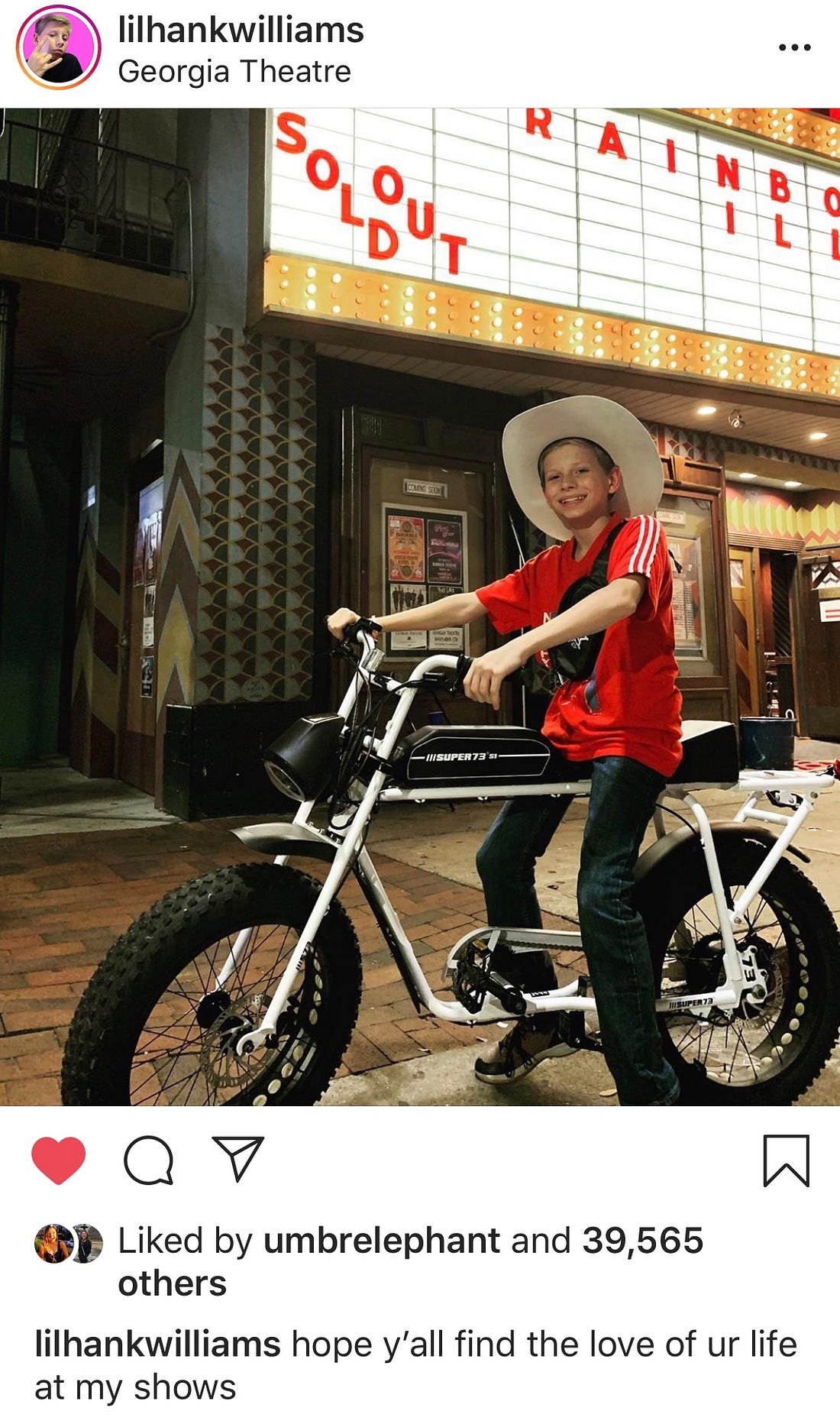 I'm workin on it, bud!!!
Speaking of dating
At last writing, I was having absolutely no luck with finding love on Facebook….SHOCKING!!! But after making an absurd bet to myself to give bumble/hinge a shot and message every match, I have gussied myself up for a few dates. Last Monday's, however, will go down in first date infamy.
Before we begin, I must clear the air on something that at least one GMB reader is wondering:
Even I am not that desperate for content to subject myself to the hellscape that is online dating, so I can assure you that these are actual pursuits for a fulfilling relationship. ANYWAY!
The hilarity of last week's date really is in the specifics, which I don't quite feel comfortable publishing on the internet because amateur sleuthing could easily reveal his identity — BUT, I'll try to set the scene as best I can.

He invited me to get drinks at a very nice bar inside the Conrad Hilton in the Loop. I, a lifelong admirer of luxe hotels and posh establishments, was elated to be taken somewhere that does not have cheese curds on the menu. I immediately got swept away in the fantasy of a long and happy romance with this man, dating our way across the city of Chicago in tuxes and ballgowns, toasting to our newfound high society love. (Yeah, I hate me too. My dog likes to watch Hallmark movies and they're messing with my head.)
It only took about ten seconds for this image to be shattered when he opened his menu and shouted—and yes I mean SHOUTED—"holy shit these cocktails are fancy as FUCK!!!!"
At this very moment, fight or flight kicked in. Luckily for you, I decided to fight it out purely to have a story to tell. In the next 60 minutes he learned absolutely nothing about me, but I learned far more about him than I ever bargained for. Without giving too much away about this young man, I will tell you that he:
Quit his job to pursue comedy in January (this is the least of my worries by the end of the 60 minutes)

Mansplained improv, Second City, and standup comedy to me for a solid 20 min… then rounded it out by mansplaining Illinois high school speech team lol

Quit comedy in June to pursue an opportunity to be on a fitness reality show: "why would I keep doing standup when like, this is clearly my big break?"

Has trained for three days for this reality show, which leads up to a large fitness event of his choosing (the Boston Marathon)

He chose the Boston Marathon specifically to avenge his high school classmates for calling him out for making a Boston Bombing joke on Facebook in 2013 (I could not make this up if I tried)

He does not plan to actually qualify for the Boston Marathon, but rather plans to pay a $6,000 donation/entry fee, partially paid for with money he is expecting to win from a settlement after a woman hit him with her car in 2017. He expects that to be $1,500, and says his parents are selling his car to make up the remaining $4,500.
Surely those 6 bullet points alone were worth the 90 minutes of driving and $30 tab, yeah???
Niche Facebook group of the week:
Look, am I proud to be in a Facebook group devoted to photos of animals with hilarious legs? You know what, we got one life to live and we might as well live it boldly.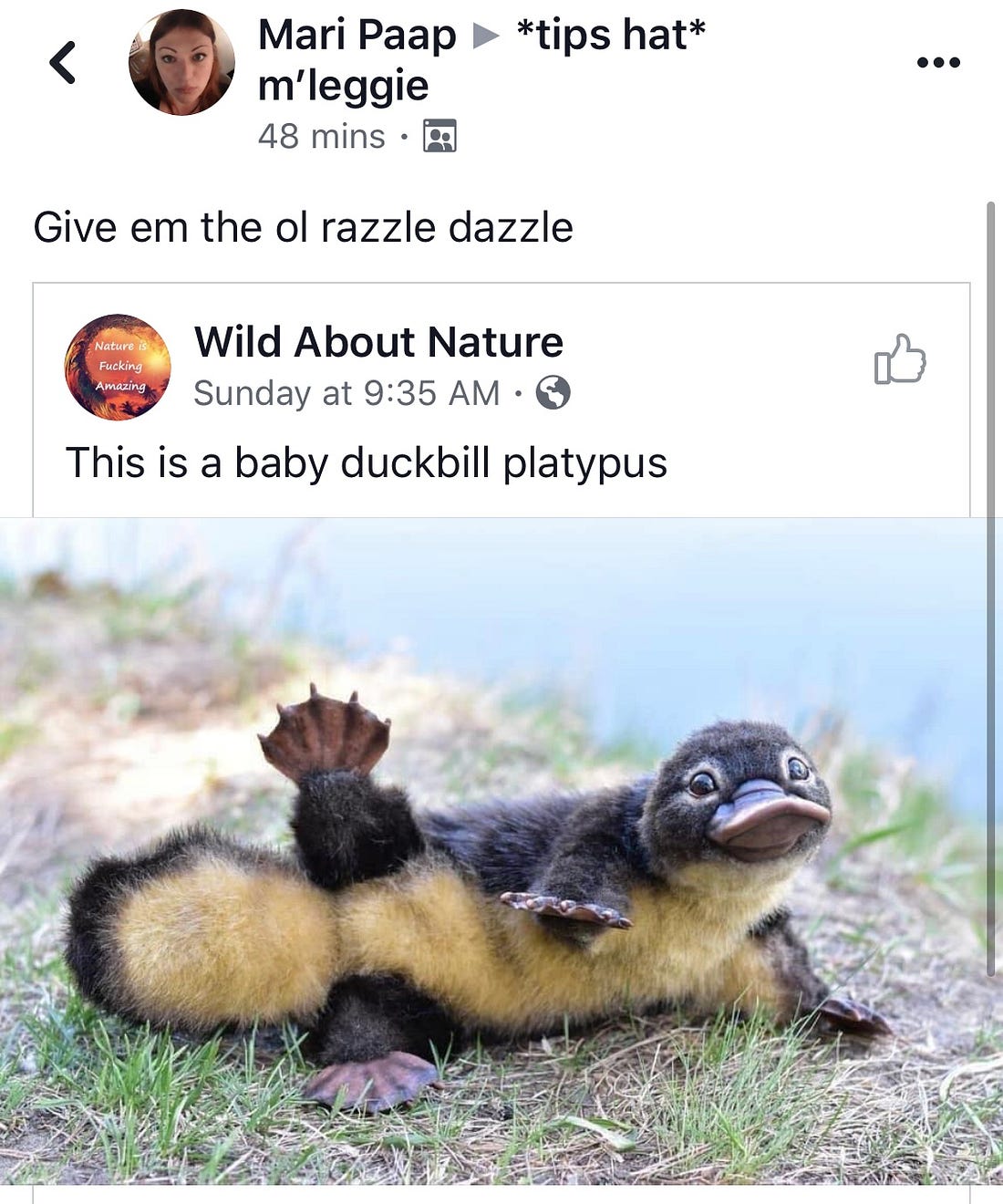 One more real quick facebook group gem:
Another thinkpiece about whether or not True Crime should be a glorified genre:
You wanna feel guilty about your Forensics Files marathons and endless queue of serial killer podcasts? Read this opinion piece by Amanda Knox, "True crime fails when it treats trauma as entertainment. But there's a better way."
For those of you not caught up in early 2000s crime drama, Knox was wrongfully prosecuted and imprisoned in Italy for four years before being acquitted in 2015. She's been the subject of endless documentaries, podcasts, books, and even a Lifetime movie. She's pissed off and trying to change the genre that thrust her unwillingly into the public eye. It's a good piece. I do love this genre, but I think it has gotten out of control in recent years so I welcome a well-written critique.
True crime has a problem, and it looks like a glass of chardonnay and a top 10 list of the most "famous" and "bone-chilling" murders.
Boss bitch of the week:
You'll be hearing more about him on good morning bitches soon (yes this is a tease!!!), but I want to take a lil minute to talk about my Good Friend™ Zach Sullentrup.
Zach has been the frontman/musical genius behind a variety of projects and bands since high school—most notably, Tidal Volume. He and I met after his band opened for Misterwives, because I vastly misunderstood a message from mutual friend/good morning bitch Kyle Lock & did not realize Zach was a fellow student……so I decided to fangirl him "as a bit" because I thought he was a legitimate touring musician. But anyway, that awkward moment turned into a lovely friendship that I cherish so much!!!
(See below: baby 2015 Zach & Lily 🖤)
(RIP those sandals, which fell victim to the stickiness of Harpo's floor)
Tidal Volume released its latest single last month and it is a Certified Banger. I have been such a fan of his for four years, but this is by far my favorite song yet. I absolutely insist you stream "Get Back Up", which has all of the essentials of a motivational punk rock anthem, while also subtly working in a reference to the St. Louis Blues. In other words: it's extremely on-brand.
Oh! He's also got a petition going:
Sign it here! Or at least read it. The description alone is great entertainment.
You can also stream my second favorite Zach song, which is less of an anthem and more of a celebration of……small mental health victories??? Zach can u confirm this?
Tidal Volume's new single drops Friday :)
Newsletters supporting newsletters:
Speaking of Kyle Lock, he has also started a newsletter on Substack and I highly, highly recommend it:
He picks very interesting stories from a variety of genres, and contains way less bullshit than good morning bitches does. (You definitely will not find screenshots of Facebook groups about animal legs.) I particularly enjoyed the section in his 9/30 edition about issues in popular Christian magazine "Relevant's" workplace environment.
Yay for friends making content I can plug!!
Rare GMB sports content:
I already mentioned an NHL hockey team twice so this is a sports BONUS!! This ESPN video about celebrating one year of Gritty is top notch work that even I can get on board with.
Wedding shaming/praising:
Loyal bitches will remember the wedding shaming section, which has been temporarily laid to rest due to unforeseen facebook group circumstances. BUT this particularly horrid wedding moment went viral last week: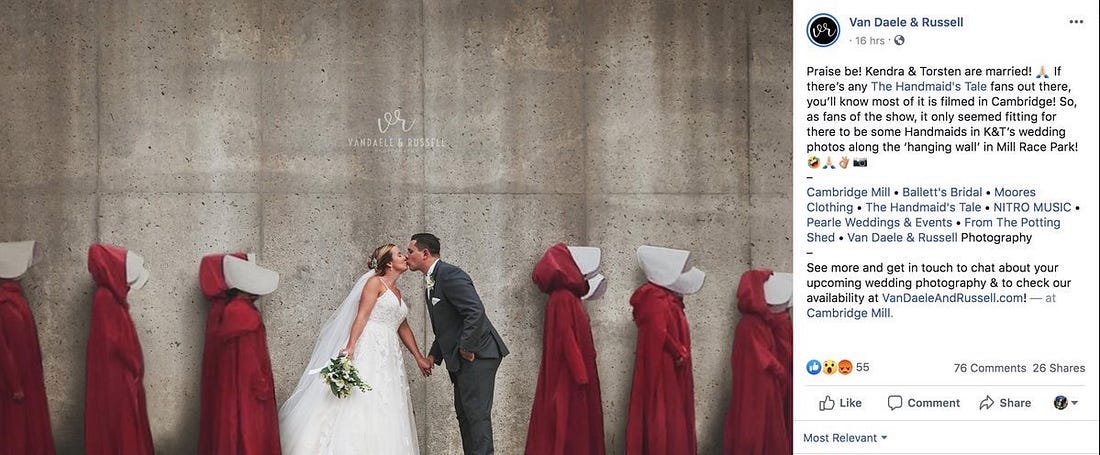 I am not even going to dignify this with an explanation of why it sucks…but if you're not familiar with Handmaid's Tale, you can read about why this is absolutely trash here.
On a much brighter note, I want to highlight something extremely cool that a sorority sister did at her wedding:
Becca Knipp (Eichelberger) hired Cindy Scott Artistry to paint a live painting of her wedding reception and I am LIVING for it. It started as this:
And ended up looking like this:
Seriously amazing, major props to the artist and Becca!! FYI Brides/event planners… Cindy is based in mid-MO and will travel :)
This (3) week(s) on Twitter:
Why would I spend $5 on a bag of apples at the store when I can wear warm fall clothes in 88° weather and pay $36 for our family to pick them ourselves.
Cultural Impact: █    █  █  █  _ Alexis Rose Michelangelo's saying "David" David
(If you're not watching Schitt's Creek, get the hell on it)
Hello darkness my old friend. Darkness (2 days later): Sorry just saw this.
This video below is the funniest thing I have seen in a LONG time:
So this is goodbye…
Please excuse all typos as I am hastily sending this to the printing presses to make my completely arbitrary evening deadline for a morning newsletter. Also I am sorry to any of my dad's colleagues that he forced to read this. He is proud of me but you don't have to be 🖤🖤🖤
Until next time,
xo,
Lily
Hey, wanna do me a favor? Scroll all the way up or down and click that little heart icon. It lets me know you liked this newsletter, and helps me get it out to more people. :) Thank you so much for doing this last time—it got me to #2 overall on substack!
---
You new here?